Formaldehyde In Baby Products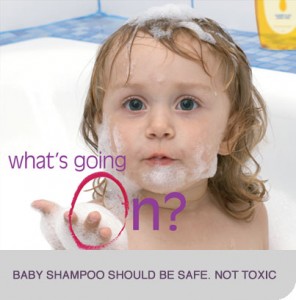 More than two years ago health and parents organizations asked Johnson and Johnson to discontinue the use of toxic ingredients in their line of baby products particularly quaternium-15 which is a chemical preservative that kills bacteria by releasing formaldehyde.
Last week the Campaign for Safe Cosmetics released an analysis called Baby's Tub Is Still Toxic which purchased and reviewed labels of Johnson's Baby Shampoo sold in several countries to find out if they were still using quaternium-15. In several countries they have replaced the toxin with safer ingredients which is a great step in the right direction however they still have not stopped using it in Canada, U.S.A. and China. In a stement also released last week Johnson and Johnson's representatives said "We know that some consumers are concerned about formaldehyde, which is why we offer many products without formaldehyde releasing preservatives, and are phasing out these types of preservatives in our baby products worldwide."
So let's continue to put pressure on Johnson and Johnson as consumers and beauty professionals to speed up the process of changing to safer ingredients.
The Campaign for Safe Cosmetics is a coalition of more than 150 nonprofit organizations working to protect the health of consumers and workers by eliminating dangerous chemicals from cosmetics. Core members include: Clean Water Action, the Breast Cancer Fund, Commonweal, Environmental Working Group, Friends of the Earth, Massachusetts Breast Cancer Coalition and Women's Voices for the Earth.
Latest posts by Liam Shea
(see all)