New staff selector makes it easy to change calendar views.
We've added a new staff-selector to the salonMonster calendar.  This  tool should make changing between stylists and to and from multi-stylist/single stylist view so much easier.
You'll notice a discreet new down-arrow beside your name.

Simply click on the name or arrow to display a list of all staff within the salon.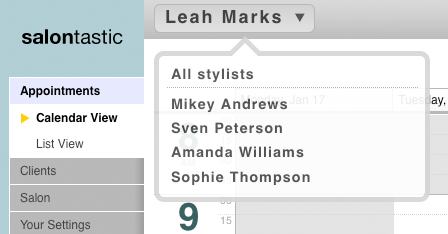 Click on a staff member or on the all stylist option to view the calendar you are looking for.
We hope you enjoy this new feature.  As always we appreciate any feedback or ideas you have to help us continually improve salonMonster.