11 Ways To Advertise Your Salon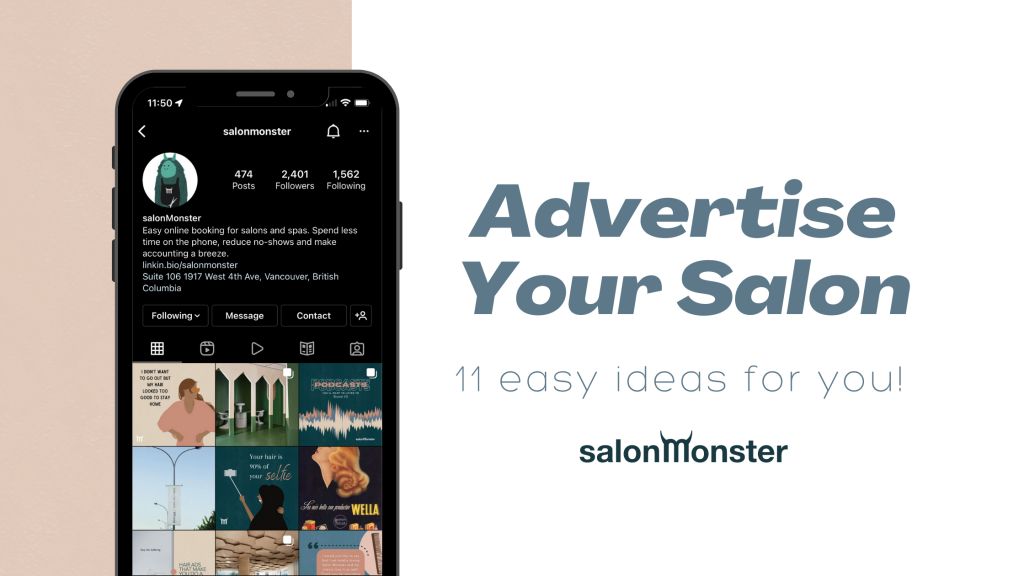 Looking for some ways to boost your clientele? New clients won't magically show up at your salon, but there are some easy things you can do to get your business out there. We've put together 11 easy ways to advertise your salon. 
1. Offer referral rewards
Never underestimate the power of word of mouth. Your existing client base is an amazing resource for finding new clients. They already love your work (we hope) and their friends trust them. Providing an incentive to get them to rave about you can help sweeten the deal.
Depending on what suits your business, you can offer:
A discount for every referral
A product gift pack
A gift certificate they can use in the salon
Make it easy for clients to refer you with an easy-to-share link or by having your business cards on hand for them to take and share.
2. Network at local events
Are you the social type? Networking in person is a great way to meet potential clients, especially if you have a special interest or hobby. Get out there and participate in events in your local community. Why not  sponsor an event? The cost is usually low, and you're sure to get your name out there. 
Check out your local news or sites like Eventbrite.ca and Meetup.com to find out what's happening in your community.
3. Do a giveaway
Doing a giveaway promotion for a salon service or product can really get people excited. There are lots of great ways to do a giveaway:
Donate to a local silent auction for a cause you believe in. You'll often get your name in the promotional materials and you can convert the prize winner into a customer for life.
Get together with some other local businesses and hold an Instagram or Facebook giveaway. Each business can contribute something to the giveaway pack and promote it on their social media, so you benefit from each other's customer base. You'll grow your social media followers and hopefully win some new customers.
Use a software tool like KingSumo.com to create your own giveaway to grow your email marketing list. 
4. Set up a selfie station
A selfie station can be the perfect prompt to get your clients to share your amazing work with their followers! It's amazing how powerful this can be. Some clients are already amazing spokesmodels.
Make sure you make it easy for them with:
An aesthetically pleasing background
Good lighting
Your salon name visible in the backdrop
A suggested hashtag and your social media handle
A helping hand to take the photo   
5. Use email marketing
Email marketing is still one of the best ways to connect with your customers. Social media posts only reach a small audience (about 5%!), but emails get through to almost everyone you send them to.
Your customers want to hear from you! Make sure you put together a compelling read with some helpful tips or fun information that will increase the chance of them forwarding it to their friends. 
There's lots of great software solutions to help you manage your email list:
6. Advertise on social media 
Social media ads can be a great way to share your work with targeted potential customers in your area. It's especially effective when using visual networks like Facebook and Instagram. You don't have to spend a lot of money to give this a try.
Make sure you target your audience carefully so you're only spending money on potential clients in your area. Try a few different test ads to see what works the best. Sometimes it will take a bit to figure out the best image/text combo for your ad, so keep trying.
7. Offer easy online booking
Don't underestimate the importance of making it easy for new clients to book with you. Not everyone wants to call the salon or stop by to say hi and book. Using an online booking service lets clients book at their convenience, 24/7.
Make sure your online booking is easy to find:
Put it on your website
Link to it from your social media profiles
Include it on your business card
Post it in your salon window so bypassers can easily book
8. Promote a bundle or special offer
Using a special offer or bundling some services or products can be a great way to attract new salon traffic. Aim to offer value without unnecessarily discounting your hard work. If you are offering a discount, try to structure it so you can upsell the client during the service and increase your profit. 
For example, offer 25% off a second product when a customer purchases two, or offer a free product with their service.
9. Use Google's geotargeted ads for walk-in bookings 
Many people search for a good stylist online using aGoogle. It's easy to use Google's advertising tools to get yourself to the top of the list in your area. You can even advertise right on the map. When setting up your ads make sure you appropriately target them to your local audience through geotargeting.
10. Ask for salon reviews 
Customer reviews are a great form of social proof and a terrific way to win new clients. Reviews give people a way to vet your work before they book.
Encourage your existing customers to leave a review by sending them a follow-up email after their appointment.
Make a competition out of it: put together a prize pack and a deadline. Then pick a winner from the customers who left a review.
11. Teach a class or workshop 
Providing free education in person or online can be a great way to meet potential new clients and build their trust in your work. We've seen some great ideas over the years:
Classes for dads to learn how to do their daughters' hair
How to maintain your hair colour
A natural hair care seminar
A class on products for long, curly hair
And one more bonus tip: Prebook your clients before they leave
This isn't really advertising, but it's a great way to get more bookings out of your existing client base. On average, a stylist can make $15,000 more per year simply by prebooking their client's next appointment before they leave the salon.
Not only will this increase your income, it will make your clients happier as well.
Make it even more desirable by holding a quarterly prize draw that clients are automatically entered into when they prebook.
We challenge you to put one of these promotional ideas into action. Pick one that best suits your style and is fun to do, relatively easy and will have a positive impact on your business. We'd love to hear how it goes! Go ahead, advertise your salon!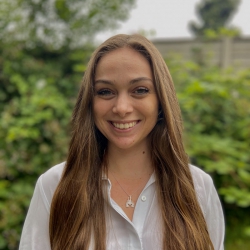 Latest posts by Meghan Ford
(see all)