Haven't Listed Your Salon With Google Yet? Do it now in 10 minutes or less!
Are you old enough to remember the days of the Yellow Pages?  That massive brick of yellow paper didn't just make a great doorstop, it was the main place people looked to find anything. Every business owner had to have an ad in the Yellow Pages.
Today, the Yellow Pages are a thing of the past. If you're trying to find a business, you're probably going to turn to a search engine on the internet.  And if you're like most people (75% of us) you're probably going to use Google.com. With so many potential clients using Google it's critical to make sure your salon is listed and your information is accurate and appealing.  The great news is that listing your business with Google is free and takes less than 10 minutes.  There's no reason not to do it!
Managing your business listing with Google is done via Google's "My Business" website.  It's a good idea to bookmark the site so you can easily access it in the future.  It can be accessed at: https://www.google.com/business/
To create your listing you're going to need:
Your salon contact details (that should be easy)
Your opening hours
A short and enticing description of your business
A square version of your logo.  250 pixels x 250 pixels or larger
A profile photo that represents your business (Google seems to prefer that this image either be an interior shot, exterior shot or product shot)
A decorative cover photo bigger than 1080 pixels x 608 pixels in size
Interior photos, exterior photos and team photos (optional but helpful)
Let's walk through how easy it is to list your salon with Google:
Open your web browser and go to:  https://www.google.com/business/
When you're there, click on the "Start Now" button.


First, you'll need to log in.  If you don't have a Google account yet you'll need to create one.
Once you're signed in a map will appear where you can search for your salon.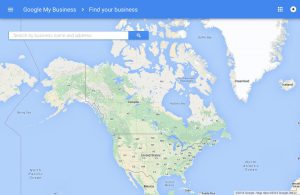 Type in your salon name and, if needed, your city.

If your business has been around for a while, Google will probably have automatically added some of your business info for you and it will show up in the search results.  If your business name is in the list of results, simply click on it  (and skip the next couple of steps in this guide).
If your business is new or doesn't show up in the list of results just click on the "Add your business" link hidden at the bottom of the list of the results:


This will open up a form where you can enter your main business details and select a business category (beauty salon). Then click continue.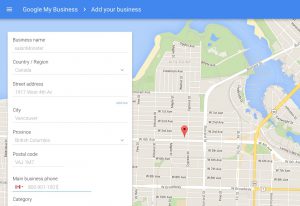 Sometimes when entering a new business Google will ask to confirm that you aren't duplicating a business already in their records.  Double check that your business isn't in the list and then click "None of these match, keep the information I entered."

For both new and existing businesses you'll need to confirm your business address and check the box to confirm that you are authorized to manage your business.  Do this and then click the continue button: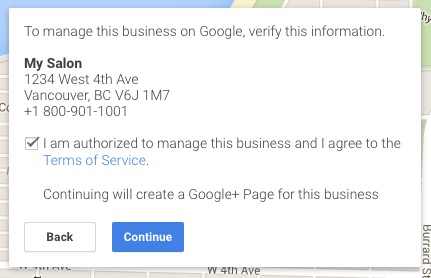 At this point you might be thinking "hey, can anyone register my salon as their own!?!"  No, definitely not.  To prevent people from "claiming" businesses that they don't actually own, Google requires that you verify yourself by mail.  They will snail mail you a letter with a secret code and verification instructions to your business address.  Don't skip the verification process as your listing won't be published until you complete it.  To initiate your verification click the "Mail" button.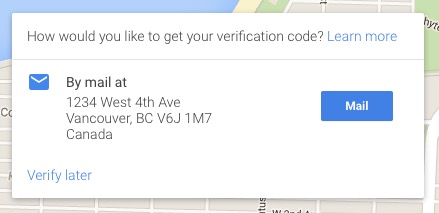 You'll now see the main management page for Google's My Business. Your newly added business will be listed. Click the "Manage Location" link to continue filling out your business details.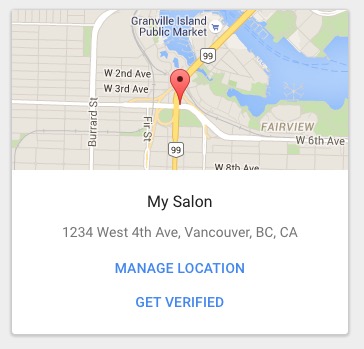 Now we can add some pictures for your salon.  Why is this important? Well, businesses that add photos to their listings receive 42% more requests for driving directions on Google Maps and 35% more clicks through to their websites.
To start adding photos, click on the circle beside your salon name or on the "Add profile photo" button.

You'll now find yourself on the photo admin page where you can add a whole range of images to your business listing.
The most important image to add is your "profile photo."  This image will be displayed beside your business name in search results and anywhere else Google displays your business info.
Your profile photo should not be your logo.  Google seems to like this image to either be an interior, exterior or product shot. Make sure you choose an image that looks good at a small size as well as full size because it will be used for both.
Click on the "profile photo" square to upload your image.  Select an image from your computer and then drag it onto the page or click on the "upload an image from your computer" button.
Once your image is uploaded you'll be required to crop it so that the important parts of your image fit within a square.  To do this simply drag the corners of the box around until you are happy with the result.  Once you're ready, click the "Set profile photo" button.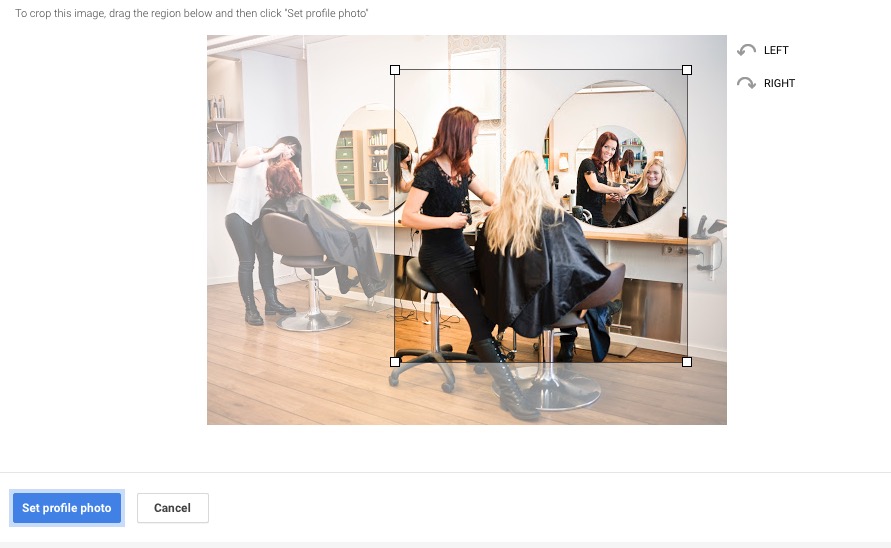 Repeat the process, this time clicking on the logo upload button.  You'll need to use a square version of your logo that is bigger than 250 pixels x 250 pixels in size.
Next we'll add a "cover image."  This is a wide image that Google will display on your business profile.  Ideally this should be a photograph 1080 pixels x 608 pixels in size.  So long as your image is wider than 1080 pixels, Google will let you crop the height to fit. Try and choose an image that represents the personality of your business.
You can now continue down the photos page and add any images you have for interior photos, exterior photos, "photos at work" and "team photos."  It's a great idea to add photos to all of these categories to give potential clients a good overview of your business.  You can see good samples of each type of photo by clicking on the "see examples" link in each section.
Now that you've added all of your images, it's time to fill out the rest of your business information. To do this click on the "Info" link at the top of the page:

Adding your website address to your profile makes it easy for clients to access your site.  To enter it, scroll down to "Contact Info" and click on it. This will pop up a window where you can insert your website address.  Type it in and click "Save."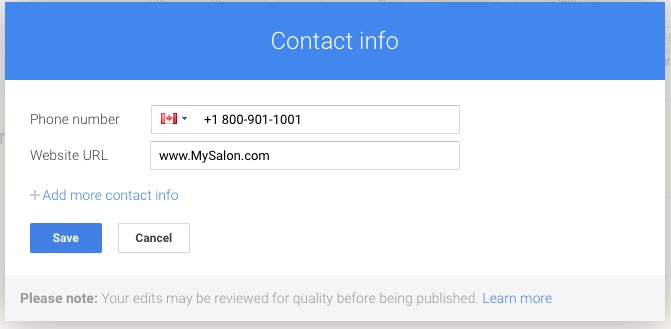 Google will even show your opening hours on your business listing.  To add them click on "Hours."  By default this brings up the option to set all your weekday hours.  If you have different hours for different days of the week you can simply click on "Weekdays" and select the appropriate days. To add weekend or hours for other days click on the "Add another set of hours" link.  Once your hours are entered click the "Save" button.  Make sure you remember to update your hours with Google if you change them so that clients get accurate information.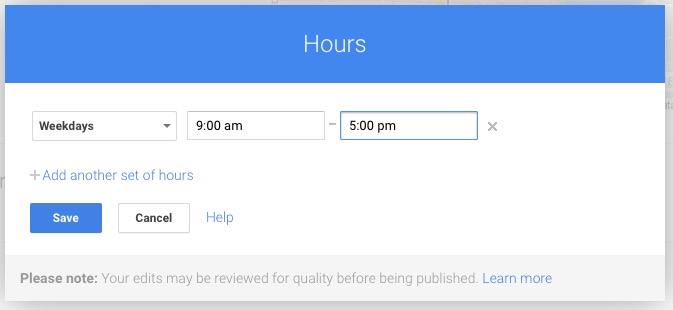 Now let's add a business description.  Click on "Introduction" and enter a short and sweet description of your business.  This is your chance to write a quick sales pitch for potential clients. Once you're happy with it, click "Save" then click the "Done editing" button to return to your main page.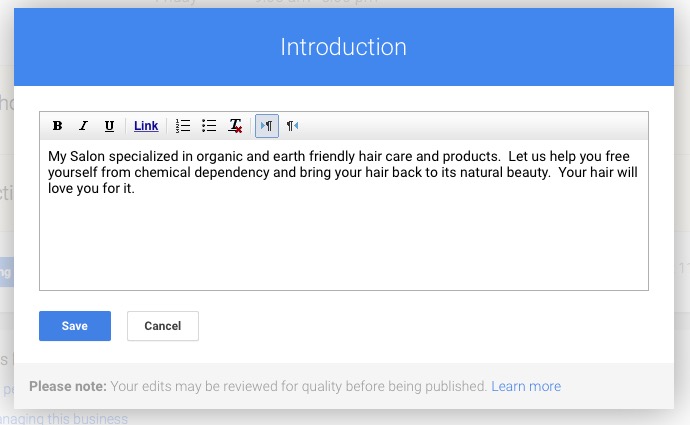 Now give yourself a pat on the back, you've done it! Make yourself a coffee and kick back and wait for the verification letter to arrive by mail.  Remember, your listing won't be displayed until you complete the verification.
Having your salon listed with Google's "My Business" will make sure you show up when prospective clients are searching for salons in your area. It will also help your business show up higher in search results.
Now, that's 5 minutes well spent!
Now that you're listed in Google have you set up your Facebook page yet?