How to upgrade your skills as a hairstylist or salon owner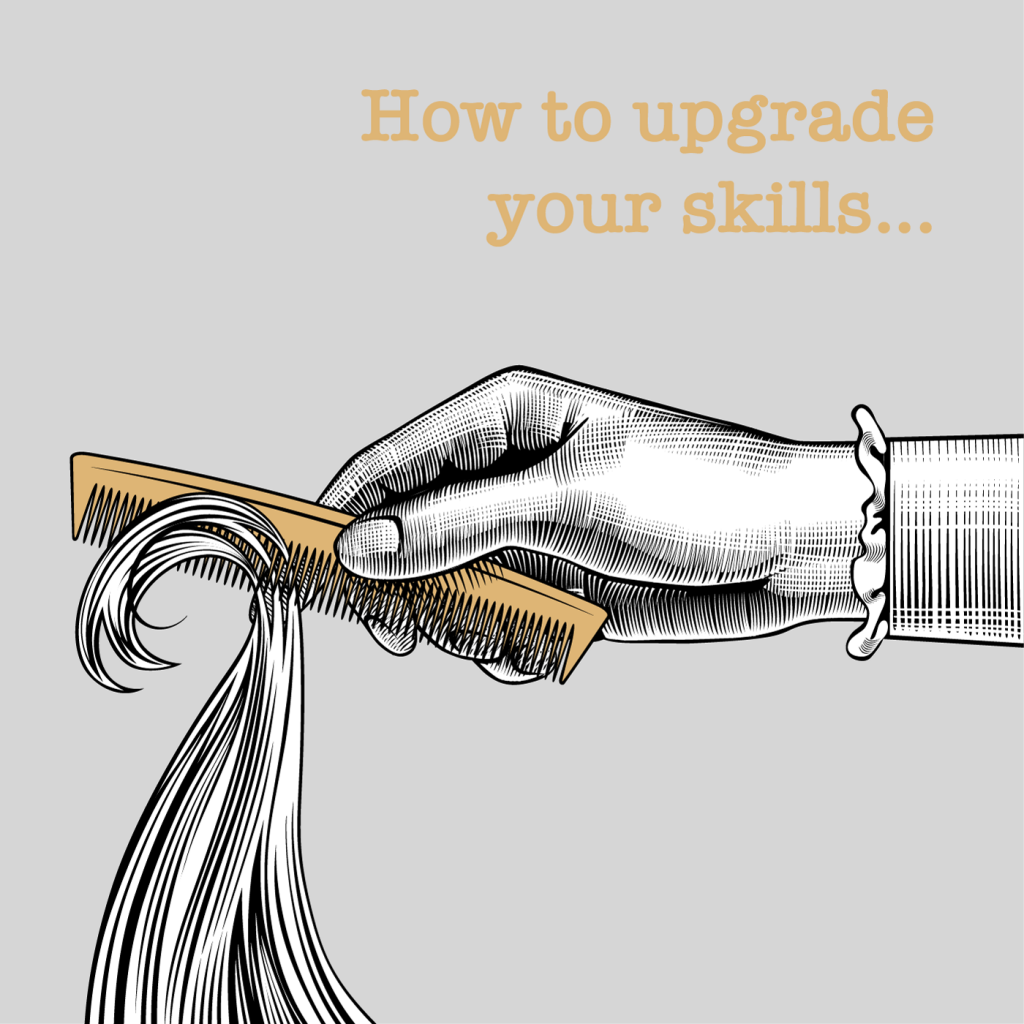 In Part 1 of this article, we talked about WHY you should upgrade your skills. Now let's look at HOW.
First we'll offer tips for salon owners, then for independent stylists. Finally, we'll toss out some thoughts on learning style and recommend resources.
We hope there's something here to inspire you.
If you're a salon owner
In a nutshell: Continuing education will increase the relevance of your salon.
If you're commision-based and you pay for continuing education, you'll find it easier to attract quality staff. How about requiring stylists to attend a certain number of upgrading classes each year? For example, you could offer four classes a year and require each stylist to attend at least three.
If you're renting chairs, you'll find it easier to promote your salon when your staff is up to date with current techniques and products.
Whatever your profit model, if you make education easy and enjoyable, you'll increase staff skill, enthusiasm, and participation.
How to plan successful classes for your salon
Plan for success by asking your staff what — and when — they want to learn.
If they're interested in a technique or skill, they'll learn a lot more.
And if you work within their scheduling needs, they'll be more likely to show up. (For example, twenty-something hipsters will have different availability than, say, parents of small children.)
Salon-class Do's:
Provide coffee, tea, and snacks. Let's face it, after work everyone's tired. We all just want to go home. You can encourage participation by keeping energy levels up with food and drink.
For colour and cutting classes, organize your hair models well before the class. Save yourself a lot of stress by making sure they are reliable.
Salon-class Don'ts:
Don't have stylists working with clients when classes are taking place. Clients find this awkward and they may wonder why only part of the team is upgrading their skills.
Don't make stylists wait around after they're done work. Schedule classes at a convenient time for as much of your staff as possible to increase attendance and motivation.
Education beyond the salon
Both commision-based and chair-renting stylists will find great opportunities for education outside the salon too. As a bonus, this can be a fun bonding experience.
Why not put together a team trip to a hair show? Stay in a hotel, go to the show, and leave time for hanging out together in a new city.
Make a point of attending more trade shows. Most shows offer a wide range of educational forums and seminars for both commission and chair-renting stylists.
Find out what's happening in your city. Other salons might be hosting and organizing courses with local or visiting educators — a great way to build skills and meet other local professionals.
If you're not sure what's out there, get in touch with your local beauty association and ask for information about courses in your area.
Become a product expert
Attending product education workshops is just as important as growing your skills. After all, how can you sell a retail line to clients if you don't know how the products work?
Contact your product wholesalers and reps to find a local class or arrange one for your salon. Most product manufacturers have excellent educators who can come in and teach your team about how to best use and present their products. Some will even teach salon business skills. They may also have online tools and education apps you can use on your own.
Ideas for independent stylists
Think about any services that make you nervous, like bridal up-do's or colour corrections. Try taking classes to improve these very skills, so you can replace cringing and avoidance with confidence.
If your salon doesn't host classes, talk to the owner or manager and offer to help organize the kinds of training you'd like to attend.
Find your learning style
What's your learning style? Knowing how you like to learn can make the difference between avoiding education and using it as rocket fuel to grow your skills and income.
Are you more introverted? Do you hate being put on the spot? You might prefer the privacy of learning from an online video or finding a more experienced stylist who will mentor you.
Or maybe you need the energy and motivation of group learning, where you can have a laugh together and support each other as you experiment with new skills.
Set yourself up for success by knowing your learning style and finding where you thrive.
We'd love to hear from you about your favourite educational resources, we'll add them to this list. Leave a comment or email us.
Some great learning resources for salons and stylists
Youtube videos
Where can stylists go to learn the latest skills for little or no cost? Yup, YouTube.
Many pro stylists, brand reps, and educators share terrific content that's free to watch at your leisure. (Though, do beware of those few less-than-skilled practitioners you should steer clear of.)
Here are some Youtube channels we love to watch:
Online training
Salon coaches and consultants
What if an experienced professional could help you identify your salon's specific education needs? That's exactly what a good salon coach or consultant can do for you. Though expensive, this can be a smart business investment.
You can hire a consultant to do a complete review of your salon or to help with a specific area, like increasing retail sales, average per-client sale value, customer retention, or whatever you need.
Salon and Spa Conferences
Books and articles
Check out our previous article 28 Salon Business Gurus Share their Top 3 Salon Books!
Here are some of our favourites (in no particular order):
GROW, GROW 2 Management and GROW 3, Team – Anthony Whitaker
The E Myth Revisited – Michael Gerber
No Compromise Leadership:  A Higher Standard of Leadership Thinking & Behavior – Neil Ducoff
Secret Service – John Dijulius
Spin Selling – Neil Rackham
The Fantastic Hairdresser – Alan Austin-Smith
Hairdresser's Guide to Success – Jon Gonzales
Developing Your Skills – Jon Gonzales
Grinding It Out – Ray Kroc
Kick Start Your Business: 100 Days to a Leaner, Fitter Organization – Robert Craven
The NO COMPLAINING Rule –  Jon Gordon
3 ½ Secrets to Salon Success – Pam Stellema
33 Proven Strategies to Make More Money in Your Salon…Right Now– Pam Stellema
The Four Agreements – Don Miguel Ruiz
The Go Giver – Bob Burg and John David Mann
Everyone Communicates, Few Connect – John C Maxwell
Now Discover Your Strengths – Marcus Buckingham and Donald Clifton
Emotional Intelligence 2.0 – Travis Bradberry & Jean Greaves
Making the Cut: The 2015 Marketing Calendar for Independent Beauty Pros, Salons and Spas – Elizabeth Kraus
A New Earth – Eckhart Tolle
Cutting Hair the Vidal Sassoon Way, Revised Edition – Vidal Sassoon
Whale Done – Kenneth Blanchard Ph.D
Be Our Guest – Tom Peters & Bob Waterman
The New Psy-cosmetologist – Donald W. Scoleri & Dr Lewis E. Losoncy
The 7 Habits of Highly Effective People – Stephen R.Covey
The Alchemist – Paulo Coelho
Good To Great – Jim Collins
SalonOvations: The Multicultural Client: Cuts, Styles and Chemical Services (Milady Salon Orations) – Victoria Wurdinger
Vidal: The Autobiography – Vidal Sassoon
A Little Off The Top – Michael Cole
Minding Your Own Business – Judiffier P. Pearson
Six Keys To Six Figure Hairstyling – Kate Hall and Chris Hall
The Great Game of Business – Jack Stack
Leadership and Self-Deception – Arbinger Institute
Start with Why – Simon Sinek
The Art of Hair Colouring – David Adams and Jacki Wadeson
Hairdressing: The Foundations – Leo Paladino and Martin Green
The Salon & the 'S' Word: Success – Michael Vallance
37 Questions Everyone in Business Needs To Answer –  Duncan Bannatyne
Why We Buy – Paco Underhill
1001 Ways To Reward Employees – Bob Nelson
The Fantastic Hairdresser – Alan Austin-Smith
Over The Top – Michael and Mary Cole
Business Essentials – Salon Resource Group
How to Win Friends and Influence People –  Dale Carnegie
The One Minute Manager – Ken Blanchard and Spencer Johnson
BUYOLOGY: Truth and Lies about Why We Buy – Martin Lindstrom
Psychology of Selling: Increase Your Sales Faster and Earlier Than You Ever Thought – Brian Tracey
The Disney Way, Revised  Edition: Harnessing the Management Secrets of Disney in Your Company – Bill Capodagli and Lynn Jackson
The War of Art – Steven Pressfield
Graceful – Seth Godin
30 Days to Beauty Business Success – Liz McKeon
Finding Your Own North Star–  Martha Beck
The Naked Salon: A Guide to Time, Team and Money – Lisa Conway
Purple Cow – Seth Godin
Tribes – Seth Godin
Good To Great – Jim Collins
Now, Discover Your Strengths – Markus Buckingham
Let's Get Real or Let's Not Play – Mahan Khalsa

2 Comments