28 Salon Business Gurus Share their Top 3 Salon Books!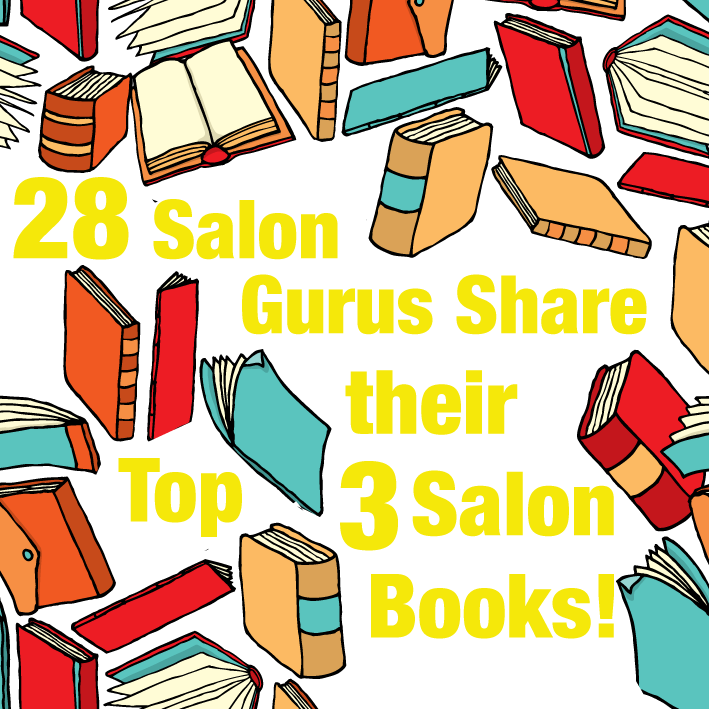 As business owners we're always looking for ways to improve our salon education and increase our bottom line.  We're avid readers but we only have so much time in the day so we reached out to 28 international salon gurus and asked them all one simple question:
"If you could only choose 3 books for a salon owner/stylist to read what would they be?"
We found the variety of responses truly inspiring and there were some standout favourites.
Here are the top 3 salon business books according to 28 salon business gurus:
Read on to discover each guru's favourite books.  You can either click on their name below or kick back with a drink and peruse the whole list.
To be fair we've listed each response in the order they were received:
Heather Lemere, Brenda Perham, Tina Alberino, Richard Mccabe, Tara Main, Pam Stellema, Aileen Eakin, Elizabeth Kraus, Carrie Herzner, Deb Hunt, Malcolm Gibbons, Christina Dunbar, Nina Kovner, Cyrus Bulsara, Kate and Chris Hall, Neil Ducoff, Antony Whitaker, Michael Vallance, David Drew, Michael Lane, Peter Mahoney, Peter Lunn, Carla Jones, Gerard Scarpaci, Liz McKeon, Lisa Conway, Karen Lynch, Steve Gomez
---
 Heather Lemere
No Compromise Leadership:  A Higher Standard of Leadership Thinking & Behavior – Neil Ducoff
The E Myth Revisited – Michael Gerber
Secret Service – John Dijulius
---

Brenda Perham
The E Myth Revisited – Michael Gerber
Spin Selling – Neil Rackham
The Fantastic Hairdresser – Alan Austin-Smith
---
 Tina Alberino
Hairdresser's Guide to Success – Jon Gonzales
Developing Your Skills – Jon Gonzales
---
 Richard Mccabe
The E Myth Revisited – Michael E. Gerber
Grinding It Out – Ray Kroc
Kick Start Your Business: 100 Days to a Leaner, Fitter Organization – Robert Craven
---

 Tara Main
GROW – Anthony Whitaker
GROW 2 , Management and GROW 3, Team – Anthony Whitaker
The NO COMPLAINING Rule –  Jon Gordon
---
 Pam Stellema
3 ½ Secrets to Salon Success – Pam Stellema
33 Proven Strategies to Make More Money in Your Salon…Right Now – Pam Stellema
The E Myth Revisited – Michael Gerber
---
 Aileen Eakin
The Four Agreements – Don Miguel Ruiz
The Go Giver – Bob Burg and John David Mann
Everyone Communicates, Few Connect – John C Maxwell
---
 Elizabeth Kraus
Now Discover Your Strengths – Marcus Buckingham and Donald Clifton
Emotional Intelligence 2.0 – Travis Bradberry & Jean Greaves
Making the Cut: The 2015 Marketing Calendar for Independent Beauty Pros, Salons and Spas – Elizabeth Kraus
---
 Carrie Herzner
A New Earth – Eckhart Tolle
Memoirs of a Geisha – Arthur Golden
Cutting Hair the Vidal Sassoon Way, Revised Edition – Vidal Sassoon
---
 Deb Hunt
The E Myth Revisited – Michael Gerber
Whale Done – Kenneth Blanchard Ph.D
Be Our Guest – Tom Peters & Bob Waterman
---
 Malcolm Gibbons
The New Psy-cosmetologist – Donald W. Scoleri & Dr Lewis E. Losoncy
The E Myth Revisited – Michael E. Gerber
The 7 Habits of Highly Effective People – Stephen R.Covey
---
 Christina Dunbar
Soothing The Soul at the Shampoo Bowl…a journey to becoming a more professional cosmetologist – Christina Dunbar
Taking Control of Your Destiny…a workbook for the cosmetologist – Christina Dunbar
---
 Nina Kovner
The Four Agreements – Don Miguel Ruiz
The Alchemist – Paulo Coelho
Good To Great – Jim Collins
---
 Cyrus Bulsara
 Professional Consultants and Resources
SalonOvations: The Multicultural Client: Cuts, Styles and Chemical Services (Milady Salon Orations) – Victoria Wurdinger
No Compromise Leadership:  A Higher Standard of Leadership Thinking & Behavior – Neil Ducoff
Vidal: The Autobiography – Vidal Sassoon
---
Kate and Chris Hall 
A Little Off The Top – Michael Cole
Minding Your Own Business – Judiffier P. Pearson
Six Keys To Six Figure Hairstyling – Kate Hall and Chris Hall
---
 Neil Ducoff
No Compromise Leadership:  A Higher Standard of Leadership Thinking & Behavior – Neil Ducoff
The Great Game of Business – Jack Stack
Leadership and Self-Deception – Arbinger Institute
---
 Antony Whitaker
The E Myth Revisited – Michael Gerber
Start with Why – Simon Sinek
The 7 Habits of Highly Effective People – Stephen R. Covey
---
 Michael Vallance
The Art of Hair Colouring – David Adams and Jacki Wadeson
Hairdressing: The Foundations – Leo Paladino and Martin Green
The Salon & the 'S' Word: Success – Michael Vallance
---
 David Drew
 The Impact Business Success Consultant
37 Questions Everyone in Business Needs To Answer –  Duncan Bannatyne
Why We Buy – Paco Underhill
1001 Ways To Reward Employees – Bob Nelson
---
Michael Lane
The Fantastic Hairdresser – Alan Austin-Smith
---
 Peter Mahoney
Over The Top – Michael and Mary Cole
Business Essentials – Salon Resource Group
---
 Peter Lunn
How to Win Friends and Influence People –  Dale Carnegie
The One Minute Manager – Ken Blanchard and Spencer Johnson
---
 Carla Jones
BUYOLOGY: Truth and Lies about Why We Buy – Martin Lindstrom
Psychology of Selling: Increase Your Sales Faster and Earlier Than You Ever Thought – Brian Tracey
The Disney Way, Revised  Edition: Harnessing the Management Secrets of Disney in Your Company – Bill Capodagli and Lynn Jackson
---
 Gerard Scarpaci
The War of Art – Steven Pressfield
Graceful – Seth Godin
The Everything Store: Jeff Bezos And The Age of Amazon – Brad Stone
---
 Liz McKeon
30 Days to Beauty Business Success – Liz McKeon
7 Habits of Highly Effective People – Stephen Covey
Finding Your Own North Star–  Martha Beck
---
 Lisa Conway
The Naked Salon: A Guide to Time, Team and Money – Lisa Conway
The E Myth Revisited – Michael Gerber
Grow – Antony Whitaker
---
 Karen Lynch
The One Minute Manager –  Ken Blanchard
Purple Cow – Seth Godin
Tribes – Seth Godin
The E Myth Revisited – Michael Gerber
---
 Steve Gomez
Good To Great – Jim Collins
Now, Discover Your Strengths – Markus Buckingham
Let's Get Real or Let's Not Play – Mahan Khalsa

One Comment