Graham Clark and his Beard Paintings
Graham Clark has taken a very unique approach to painting – he paints pictures with his own beard, yes you read that correctly, he uses his beard as the paintbrush for his creative art.
What started as a joke between friends, turned into a foray into art for Graham. He uses the sale of his work to help benefit some great charity's and those in need.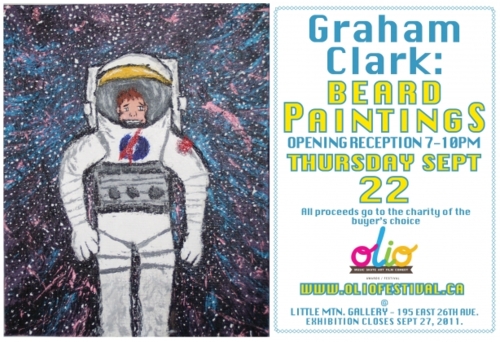 So if you live in the Vancouver area, head out to his opening reception at Little Mountain Gallery on Sept. 22nd and check out his work which is part of this years Olio Festival. All proceeds from the exhibition go to the buyer's charity of choice. What a fantastic way to combine great creative artwork with helping those in need, it's a win win for everyone!

Christine is a frequent contributor to our blog and has a love for design, crafts, and all things hair. In her free time Christine can be found gardening, backpacking and mountain biking. She's still searching for a good backpacking hair style!

Latest posts by christine (see all)