Tools we use A LOT: Google Alerts

Most people I speak to have never heard of Google's alert service, but it's a really fantastic tool to help stay on top on the news, business activity in your markets and more.
This simple but powerful free service sends you updates directly to your email whenever google finds new content or news items that match the search terms that you have given them.
We use it to keep track of developments in a variety of areas.  Some examples of search terms we currently monitor are:
– Vancouver salons (What's going on in our city in hair)
– eco hair (We're always interested in new eco sensitive hair concepts)
– salon software (What's happening in our market space)
– hair salons (General news about what's going on in hair salons around the globe)
To set some alerts up for yourself simply navigate to:  http://www.google.com/alerts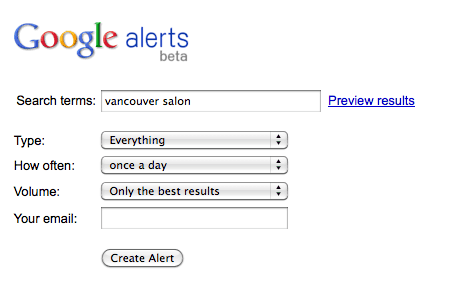 Enter the search terms that you wish to monitor, just as you would normally enter a search term in a google search.  You can set up multiple alerts, each using a different set of terms, so just use one search term per alert.  Test your search terms by using the preview results button.  Picking the right search terms is one of the most important aspects and takes a bit of practice.  For instance, searching for "Vancouver salon" will return more results than searching for "Vancouver salons".
Next, select from each of the drop down lists the appropriate setting for you:
Type: Everything/News/Blogs/Realtime/Video/Discussions (I usually chose Everything)
How often: As it happens/once a day/once a week ( Depending on how important the results are to me dictates how I set this.  As-it-happens for important things, once a week for things I'm less concerned about).
Volume: Only the best results/all results (Depending on how much data you want)
Deliver to: Enter your email address.
Then, when you're ready, just click the "Create alert" button.
You'll need to confirm your alert by responding to the verification  email sent by google:

Once created you can view all your alerts and modify/delete them in the "manage your alerts" section:

Play around with search terms and settings until you find a fit that's right for you.
We hope you find google alerts as useful as we do.