Patti Smith: Outside Society
Rock And Roll Hall Of Fame inductee Patti Smith raises the curtain on OUTSIDE SOCIETY, a new collection of her signature songs on the Arista and Columbia labels. The landmark 18-song release marks the first single-CD collection to span Patti's entire body of recorded work. The chronologically arranged tracks move from 1975 (her debut album, Horses, with "Gloria" and "Free Money") through 2007 (Twelve, with her cover of Nirvana's "Smells Like Teen Spirit").
The music on OUTSIDE SOCIETY is newly remastered by award-winning engineer Greg Calbi and Patti Smith band member Tony Shanahan. The CD booklet will feature brief recollections of each song written by Patti, who personally supervised the choices.
Of "Because The Night," for example, Patti writes: "Bruce Springsteen gave me a great gift in allowing me to lend verses to his beautifully constructed anthem. My contribution was written for my future husband, Fred 'Sonic' Smith. Though we have performed it hundreds of times, the strong response it draws always makes it fresh and exciting to sing." – from pattismith.net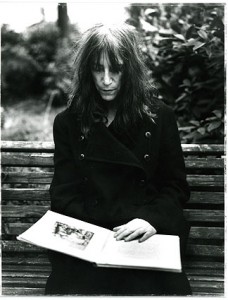 Though not all compilations are created equal we are obsessed with Patti this year after the release of her memoir "Just Kids". Enjoy!
Latest posts by Liam Shea
(see all)