Western Revolver Hair Dryer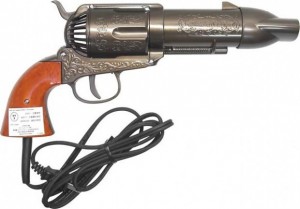 This would definitely be a conversation piece!  It's the first western revolver hair dryer I have ever seen.  I can't confirm how well it works, but it certainly looks awesome and could add some attitude to your salon!
Seems like this dryer in only available in Asia right now, here's hoping it makes its' way to North America soon.

Christine is a frequent contributor to our blog and has a love for design, crafts, and all things hair. In her free time Christine can be found gardening, backpacking and mountain biking. She's still searching for a good backpacking hair style!

Latest posts by christine (see all)