iCal feeds of your appointments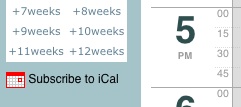 We're happy to announce that you can now subscribe to a feed of all your appointments through iCal on your Mac or iPhone. We've been testing this feature for a couple of months, and are excited to release it to everyone.
To set this up, simply click on the "subscribe to iCal" link to the left of your calendar and select iCal from the dialog that pops up on your computer. Make sure to set the auto-refresh setting in iCal to every hour or less to make sure it stays up to date.
We hope you enjoy this new feature!

3 Comments