Michelle Violy Harper on her hair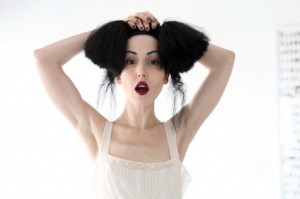 "My hair is the easiest thing, because really—with a really good shampoo and conditioner and a box of bobby pins and some hair spray, I can do whatever I want. It's more about the hairpieces, you know? So you saw me doing my hair—it was in a little ponytail, and then I knotted it and then I put some bobby pins in, do a little touch-up, with a razor, then I'm going to show you the last trick of my hair…this is my secret weapon: 'Moco de Gorila,' Snott Gorilla Gel. It's made for kids, because you know how kids love mohawks? It's made in Mexico. I was with Danilo when he discovered it, and we started playing with it. It's the most intense gel that I've ever used in my life…like, I even have to add a little bit of water. But it shampoos right out, surprisingly. The way it smells is toxic, but it wears off really quickly. Even Danilo's turned Rooney Mara onto this. Have you seen her with this slicked-down hair lately? This is the secret. And he gave me these little baby Japanese razors—which are amazing—and taught me how to shave my hairline. This is very dangerous, by the way. Danilo has been like, 'Okay, calm down—taking it back a little too much,' and then, 'Okay, girl. Drop the razor.' He had given me a pair of baby clippers too, and then he took them away. He was like, 'You're not allowed to have those anymore.' [Laughs]
I use a lot of bobby pins, zillions and zillions and zillions. When I do the wigs and hairpieces—sometimes it'll take me thirty minutes to get all the pins out—and it'll just be a mountain of them next to my bed. There's one hairpiece Danilo did for me, from my performance in the window at Bergdorf For Fashion's Night Out that doesn't take any time. You just literally pop it on. With my own hair shaved on the sides, it's like hair-cessories. That's also why I keep it so short, because I know people who have long hair and then they have shoots and they put on wigs, but like, wrapping that all into into wig caps, all that nonsense, is a nightmare. When you have no hair, you can have any hair. People are like, 'Oh, why don't you grow out your hair?' and I'm like, 'You know what? I can have any hair that I want,' any day, any moment—and that's what's really fun. I think people don't get how easy it is to play. Like, I think of makeup as just fun paint. I'm just painting my face. The way I would do a drawing, the way I would do anything.'"
—as told to Into The Gloss where you can read the entire article.
Liam : Liam is well-established in the Vancouver salon scene, with over ten years in the industry. He was lucky enough to train with some of Canada's top, award-winning stylists at cutting-edge salons.

Liam lives for good people, food, wine, film, travel, art, ideas, politics ... in short, for la dolce vita.
Latest posts by Liam Shea (see all)