The Monster Gets a Facelift
We are super excited to announce that we have updated salonMonster with several great new features and a few changes to the aesthetic of the application!
First off is a change that many of you have requested and we heard you loud and clear. You will now be able to change the date of an appointment with out having to delete it and then re-book. All you have to do is click on the calendar icon within the 'Add/Edit Appointment' window and then select a new date and time for the appointment.
We have also now added a search box to the client list page which means when you are trying to find a specific customer all you need to do is start typing their name into the search field and the list with begin to refine while you type!
Another useful new addition is the tip field. You can now write down how much a customer tipped and attach it to the history of the appointment so you can refer back to it anytime you want.
And lastly we have made several more aesthetic changes to salonMonster that we hope you will like as much as we do! Below is a look at the new calendar page.
And the new client booking page: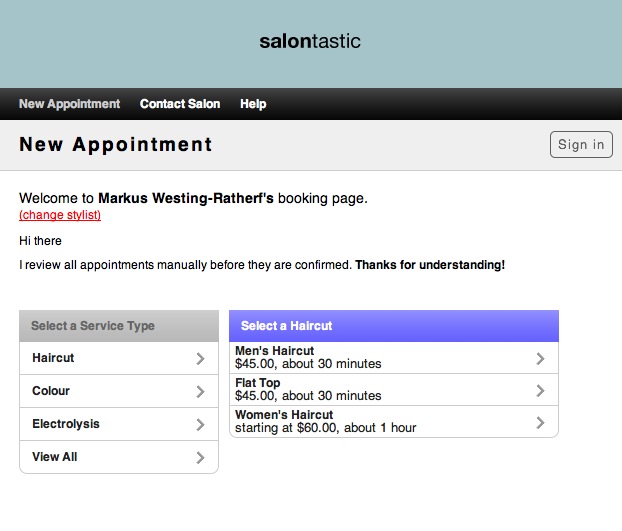 We will also be arepushing out an update this coming weekend as well which is equally exciting! We have mentioned before that we are working on an iPhone and Android version of salonMonster which we said would be ready for the end of the summer. Well, we have decided to make the mobile friendly version available for you to try out before we actually submit it to the Google Play Store and the Apple App Store.
So if any of you are interested in trying out the mobile version of salonMonster simply open up a web browser on your smart phone and go toyoursalon.salonmonster.com/mobile (i.e salontastic.salonmonster.com/mobile) and enter your username and password and your off and running!
Because this is before we originally planned to release the mobile application we want you to keep in mind that this is still a beta version of the app and if you find any bugs or glitches at all please let us know so we can get them all fixed up.
We hope you enjoy all the new updates and look forward to your feedback! Don't forget  that we want to be your favorite Monster!
The salonMonster Team