20 Questions: Charlene from Luxe Hair Salon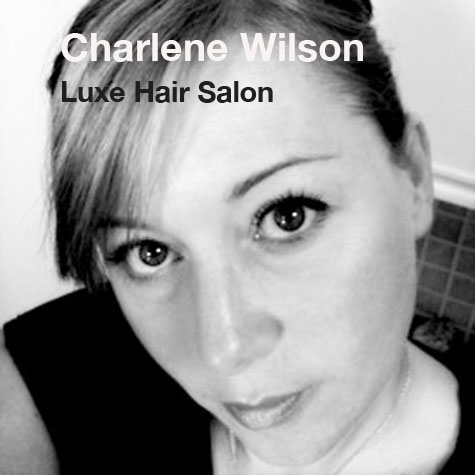 Charlene Wilson is a co owner of the lovely Luxe Hair Salon located in Victoria BC. This talented lady lives in the city with her husband and two cats.
Charlene is a sought after stylist , a wizard with colour, and keeps her skills fresh and up to date by continuing her hair education through classes and conferences.
What inspired you to enter hairdressing?
My dad, my aunt & great aunt were all hair dressers at one point in their lives, I always thought it could be a great career.
What service will you never do again?
Spiral perms
Who inspires you?
My clients
Favourite drink?
espresso
Favourite tool & why?
My Hai flat iron!  It does everything!!
Favourite product & or line of products & why?
Goldwell, for hair color:  it is just the greatest
Sebastion for everything else.  They have great advertising, great products & a great price point
Thing you love most about your salon?
That it is mine (albeit with 2 partners) & that my clients generally love the calm.
Worst haircut you ever had?
Funnily enough, it was done by a really groovy stylist that had just come back from Sassoon academy in London. He cut all my hair off & gave me this very shiny, sleek graduated bob.  Looking back it was beautiful, but I was in college & more into the really long surfer girl kind of hair.
Oddest thing you've witnessed in a back room?
Tears, tears, & more tears!
Best food joint near your salon?
Rebar
Most inspiring magazine(s) for style?
Mary-Behind the chair!!!!!!!!
What are your thoughts on the brazilian blowout?
Well…. honestly which stylist really believed that there was a way to completely alter a persons frizzy hair for 3 months without the use of chemicals.  Although I was still shocked that the formaldehyde content was that high.
Best business tip someone told you?
NEVER put your services on sale
Music you like to listen to when you cut?
At the moment old 80's alt rock, Band of Horses, Kings of Leon, Vampire Weekend.
Tea or Coffee?
COFFEE
If you could move your salon to any city in the world where would it be?
Portland Oregon or Seattle Washington.
School or Apprenticeship?
Both, school first & then mandatory apprenticeship, like they do in Europe.
Favourite thing about hair shows?
Getting to watch amazing stylists cut.
Least favourite thing about hair shows?
All the hordes of people.
Best way to get rid of a problem client?
Tell them that you feel that you are unable to meet their expectations & suggest another salon

Latest posts by christine
(see all)