The resurgence of barbershops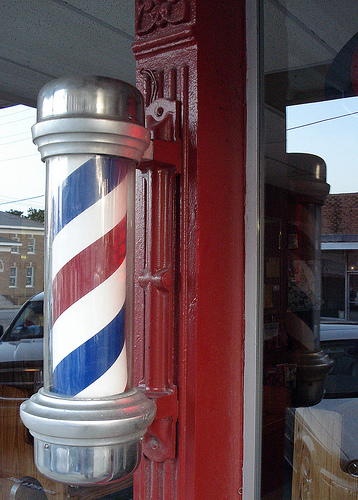 The New York times had a good article this week on the renaissance of the barbershop as a hip place to get your hair cut.
I've definitely noted the increase in stylish, upmarket barbershops opening across the country.  More and more hip young men seem to be turning to barbershops for a classic Mad Men style cut.
While many of these shops sport vintage barber chairs, antique fittings and good old-fashioned leather sharpening strops most of them are actually new businesses.  The National Association of Barber Boards has seen a 10% increase in licensed barbers over the last 2 years, growing from 225,000 to 245,000.
I started to notice the trend a few years back with the incredible success of Rudy's barber shop in Seattle, founded by the owners of the Ace Hotel.  More recently in Vancouver we've seen businesses like the Belmont Barber shop on Broadway.
In New York the trend is being led by companies like: Persons of Interest, The New York Shaving Company, Frank's Chop Shop, The Blind Barber, F.S.C Barber and Snip 'n Sip.
It's neat to see the return of some classic men's style.
Check out the NY Times article:  http://www.nytimes.com/2010/11/25/fashion/25barber.html?pagewanted=2&_r=1&ref=fashion

Originally hailing from the antipodes, Stephen has a long standing interest in the design and beauty industry.When not in front of the computer Stephen can be found running with the bears on the mountain trails around Vancouver Island.

2 Comments